EASY MEXICAN RECIPES
Looking for easy quick Mexican recipes? Find exclusive Restaurant quality Mexican recipes to inspire you from MexGrocer
Chilaquiles Rojos
Written by Hannah Thorne (
cibuskitchen.com
)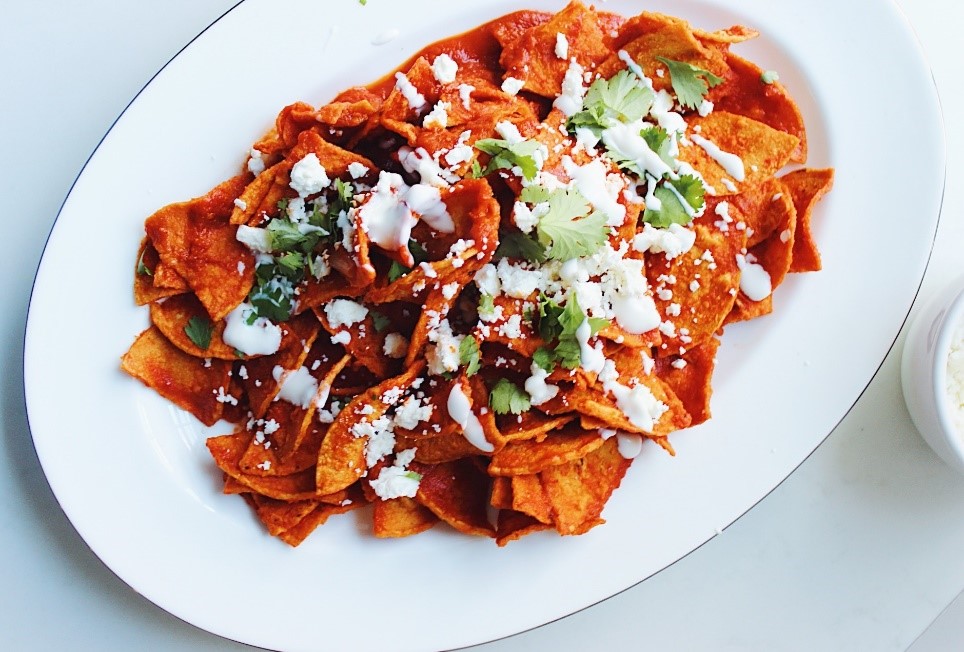 In Mexico, breakfast is an institution. We've all heard the phrase, 
breakfast is the most important meal of the day
, and in Mexico where lunch isn't eaten until 3 - 4pm, it needs to be a well-rounded one to keep you going. Easy risers may have some fruit, yoghurt, a pan dulce (sweet bread) with some coffee, but its when the hours of the morning roll into 10am to 1pm that we enter Chilaquiles territory. 
Chilaquiles are a very popular breakfast item that comes in a few variations and alternatives, but they all start with the same base of fried tortillas. The great thing about them is that they're something you can build on with leftovers and everydays items you find in your kitchen. The basic version is comprised of stale tortillas that need to be used and are given a new life by frying them in oil, they'r then topped with salsa roja (red salsa) or salsa verde (green salsa) whichever you prefer, add a bit of sour cream maybe some cheese and a side of refried beans. You can take them up a notch by adding fried or scrambled eggs, shredded chicken, some red onion, maybe some radish and a few avocado slices to top the whole thing off. 
INGREDIENTS
Serves 2
1 pack of corn tortillas (if your tortillas are fresh leave them out overnight so that they dry out). Cut into 6 wedges per tortilla if not pre cut. 
Vegetable oil
Salt
337 - 562g (1 1/2 - 2 1/2 cups) of salsa roja (recipe below or you can find a selection of salsas on our webiste)
GARNISHES
Feta or salad cheese
Fresh or soured cream
Coriander roughly chopped
Chopped red onion
1 Avocado, sliced or roughly chopped
Now before we can make the chilaquiles, we have to start with the red chilli sauce. You can make it days beforehand, it will keep in your fridge covered for up to 4 - 6 days. 
SALSA ROJA RECIPE
INGREDIENTS
2 dried Ancho Chillies
4 dried Arbol Chillies
2 garlic cloves
1/2 teaspoon of salt
355g (1 1/2 cup) of water the chillies were soaking in
DIRECTIONS
First, take you ancho chillies and remove the seeds, the stem and the veins. Heat the chillies on a skillet over medium to high heat, this helps draw out their flavours and create a light char on the skin. You will know they're ready when they release their fragrant and spicy small which can be quite strong, turn on your extractor fan or open a window so you don't inhale the chilli smoke which can be uncomfortable. 
Place the ancho chillies in a saucepan, cover them with 355g of boiling water. Leave them to soak for at least 15 minutes, this will rehydrate the chillies. 
In the same skillet you used earlier heat the whole cloves of garlic, and arbol chillies to draw out their flavours as well. Then move them to a blender.
Combine you ancho chillies with their liquid to the arbol chillies and garlic that is in the blender, add the remaining ingredients and blend your mixture until it is completely pureed. Strain your salsa through a mesh sieve into a bowl and reserve for your chilaquiles. 
Now we are going to fry the tortilla pieces.
DIRECTIONS
*Tip: The tortilla pieces will be easier to fry if they are a little dry. If they are fresh, cut them first, put them in a warm oven for a few minutes first to dry them out a bit, then proceed.
In a large saute pan, coat pan generously with corn oil, (1/8 inch) and cook on medium to high heat. When the oil is quite hot, add the tortillas, fry until golden brown. Do not crowd the tortillas in the pan as they will not fry properly and get soggy. You are going to have to fry in batches but it will be worth it. When they are done remove them from the pan and place them on a towel-lined plate to soak up the excess oil. While they are still hot sprinkle with salt. 
Let the pan cool down and then remove the oil you used for the tortillas wiping it down with a paper towel, or give it a quick wash. You don't want to have peices of tortilla in your pan as it will smoke and give your salsa a bitter taste. 
Place your pan back on the hob on medium heat, add a dash of oil and let it warm up. Take the red salsa you made earlier and place it in your hot pan, when it starts to bubble lower the heat to a simmer and add your epazote. Let it simmer for about 2 minutes before you begin to incorporate the tortillas gently folding them into the salsa. You want every piece to have a nice coating of sauce. Let it cook for another 2 - 5 minutes and then remove from the heat and place on a large plate. 
Serve your chilaquiles with the gernishes you have reserved (the coriander, the cream, onion, cheese and avocado) with a side of refried beans. They are traditionally enjoyed like this or you can also incorporate different toppings, the most popular being fried eggs and (my personal favourite) shredded chicken.
This recipe was written by Hannah Thorne in collaboration with Mexgrocer. Hannah is a Latin American recipe developer living in London. Check out her website CIBUS, and follow @cibuskitchen on Instagram for recipes and updates.